Keto Berry Meringue Dessert is an excellent and delicious recipe with low carb custard vanilla cream, berries and chocolate. This meringue provides a lot of fun during the Keto trip. I hope everyone will like this Low Carb Delicious recipe.
DURATION
Cooking Time: 1 Hours | Total Time: 1 Hours | Serving: 4
INGREDIENTS
MERINGUE
2 egg whites
Low carb sweetener (erythritol or Swerve) 2 TBS or 1 TBS + liquid stevia 3 drops
Vanilla extract 1 tsp
Pinch of salt
Lemon juice 1/2 tsp
KETO CUSTARD CREAM/CREME ANGLAISE
2 egg yolks
Low carb sweetener (erythritol or Swerve) 2 TBS
Heavy whipping cream 1/2 cup/120 ml
Vanilla or rum extract 1 tsp
Butter 1/2 TBS
WHIPPED CREAM
Heavy whipping cream 1 cup
Vanilla extract 1 tsp
TOPPING
Finely chopped dark chocolate or dark chocolate shavings 20 g/0.7 oz
Berries of your choice (raspberries, strawberries) 1 cup/110 g/4 oz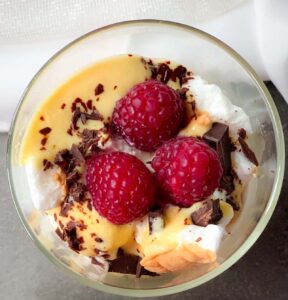 INSTRUCTIONS
MERINGUE
Preheat the oven to 95 C/200 F for crispy version or 165 C/325 F for softer version.
Line baking sheet with parchment paper.
Beat egg whites with sweetener, lemon juice, pinch of salt and vanilla until firm peaks are formed.
Carefully distribute meringue mixture on a baking sheet layered with parchment paper.
Bake in preheated oven on 95 C/200 F for 1 – 2 hours or on 165 C/325 F for 20 minutes or until baked. Time to bake depends on your oven and the size of meringue or how thick it is. It is done when it's firm and you can easily release it easily from the parchment paper.
After baking leave it in the oven with open doors until it's dry and crispy. If you don't want it crispy you can take it out from the oven immediately.
KETO CUSTARD CREAM
In a double boiler or in a sauce pan, over a medium heat, whisk heavy whipping cream with egg yolks, sweetener and vanilla.
Bring to simmer over low heat, whisking constantly for 5 minutes or until cream starts thickening and becomes smooth.
When it becomes thicker and staying on the spoon, remove from the heat and add 1/2 TBS of butter and whisk until becomes smooth cream.
WHIPPED CREAM TOPPING
Beat heavy whipping cream with vanilla extract until firm peaks formed.
COMBINING AND LAYERING
To serve take the glasses or bowls and layer meringue, cream, berries and whipped cream as you like.
Pour some custard cream at the bottom, add meringue cut in cubes or crumbled, pour more cream, add whipped cream, berries and chocolate shavings on top.
Serve in 2 or 4 glasses (depends how big servings you want).
Serve warm or cold and tuck in!
Enjoy!
NUTRITIONAL VALUE:
Cal: 341 | Fat: 33g | Net Carbs: 4.2 g | Protein: 5g