Keto Chocolate Peanut Butter Heaven Bars is a heavenly keto peanut butter dessert recipe! A creamy peanut butter-infused base is topped with a thin layer of rich chocolate topping, making it perfect for those moments when you need something sweet and satisfying. 1g net carbs each!
DURATION
Prep Time: 20 Minutes | Chill Time: 40 Minutes | Total Time: 1 Hour | Servings: 30 | Calories: 119kcal
INGREDIENTS
Peanut Butter Base Ingredients
8 oz cream cheese softened
4 oz butter softened
1 cup unsweetened creamy peanut butter
1 cup Swerve Confectioners plus more if desired
Chocolate Topping Ingredients
1/4 cup refined coconut oil melted
1/2 tsp vanilla extract
1/8 tsp salt
5 tbsp cocoa powder preferably Dutch-process
5 tbsp Swerve Confectioners
INSTRUCTIONS
How to Make the Peanut Butter Base
Combine cream cheese, butter, and peanut butter in a large bowl. Beat together until smooth. Add Swerve and beat again until smooth and well-combined. Taste and add more Swerve Confectioners if desired.
Line a pan with wax or parchment paper and spread mixture evenly into the pan, making the top as smooth as possible.
Freeze for 30 minutes. A few minutes before getting it out of the freezer, make the chocolate topping.
How to Make the Chocolate Topping
Mix all ingredients. (Note that the coconut oil should be melted, and the topping should be made right before adding it to the base; otherwise, it will begin to firm up.)
How to Make the Final Dessert
Remove the peanut butter base from the freezer. If there are any ridges on the top, smooth them a bit with the back of a spoon.
Pour chocolate topping on top, as evenly as possible, tilting the pan if necessary.
Chill in the fridge for ten minutes or until the topping has fully hardened.
Remove pan from the fridge, remove dessert from pan, and cut into 30 pieces. (If you have a hard time cutting it, let it thaw slightly on the counter. You can also warm the tip of your knife in hot water.)
Notes
I used a 6×6 square pan.
If you have a Kroger grocery store in your area, I highly recommend using their Kroger Natural Peanut Butter.
Store covered in the fridge or freezer.
Use MELTED coconut oil as listed in the recipe for best results. If you use liquid coconut oil (coconut oil that does not solidify, even in cool temperatures), you will need to heat it in order to properly combine it with the dry ingredients.
Use unsalted or salted butter depending on your personal preferences.
Traditional cocoa powder can taste a bit bitter to some people; for a smoother, less bitter flavor, use Dutch Process Cocoa Powder.
NUTRITION FACTS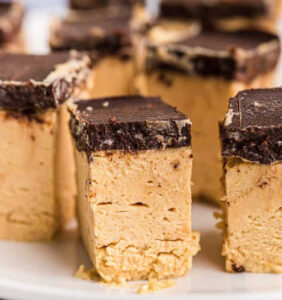 Amount Per Serving:
Calories: 119
Fat: 12g
Saturated Fat: 5g
Cholesterol: 16mg
Sodium: 61mg
Carbohydrates: 2g
Protein: 3g
Net Carbs: 1g