This recipe for Keto Peanut Butter Cookies uses almond flour and produces the perfect low carb peanut butter cookie for anyone doing keto.
DURATION
Prep Time: 5 Minutes | Cooking Time:12 Minutes | Total Time: 17 Minutes | Servings: 16 | Yield: 16 cookies
INGREDIENTS
INSTRUCTIONS:
Pre-heat oven to 350 degrees.
Prepares cookie sheet by lightly greasing or line with parchment paper.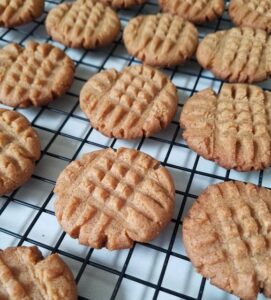 Using an electric mixer, beat well the peanut butter, butter, sugar substitute, and egg.
To this batter add the almond flour and baking powder and salt. Stir the mixture until fully incorporated.
Drop by the tablespoon or small cookie scoop of dough to form little balls and place on the prepared cookie sheet.
Once the dough balls are on the cookie sheet, flatten them with the tines of a fork and to make a crisscross design.
Bake in a 350-degree oven until lightly brown around the edges around 10-12 min.
Allow the cookies to cool completely before eating and storing as these cookies can be very fragile.
Store leftovers in the refrigerator for up to five days or freeze for up to 3 weeks.
NUTRITION FACTS:
Per Serving: Calories: 145 | Protein: 5.1g | Carbohydrates: 3.5g | Total Fat: 13.3g | Saturated Fat: 4.7g | Fiber: 1.1g | Net Carbohydrates: 2.4g