This keto-friendly chicken quesadilla recipe is going to make you dance with joy. A grain-free low carb quesadilla that will surely satisfy that Mexican food craving.
DURATION:
Prep Time: 15 Minutes | Cook Time: 20 Minutes | Total Time: 35 Minutes | Servings: 4 servings | Calories: 406 kcal
INGREDIENTS:
2 tbsp avocado oil divided
2 boneless skinless chicken thighs chopped into 1/2 inch pieces
1 tbsp taco seasoning
1/2 medium green pepper chopped into 1/2 inch pieces
2 medium green onions, thinly sliced white and light green parts only
Salt and pepper to taste
2 packs KBosh Pizza Crusts
1 1/2 cups shredded cheddar or Mexican cheese
INSTRUCTIONS
In a large skillet over medium heat, heat 1 tablespoon of the avocado oil until shimmering but not smoking. Add the chicken and saute until mostly cooked through, about 5 minutes. Sprinkle with the taco seasoning.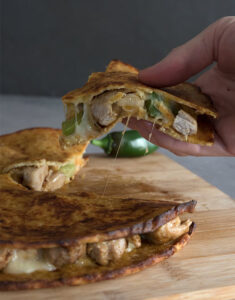 Stir in the pepper and onions and continue to cook until the veggies are tender, another 3 to 5 minutes.
Transfer the chicken mixture to a bowl and wipe out the pan with a paper towel. Add another 1/2 tablespoons of the oil and reduce the heat to medium low.
Add one pizza crust to the pan and sprinkle with 1/2 cup of shredded cheese. Take half of the chicken filling and spread evenly over the cheese. Sprinkle with another 1/4 cup of cheese and lay a second pizza crust on top.
Cover the pan and cook until the cheese is melted and the bottom is browned, 2 to 4 minutes. Carefully flip over and cook another 2 minutes. Remove and let cook a few minutes before cutting into slices
Repeat with the remaining crusts, cheese, and filling.
NUTRITION FACTS
Amount Per Serving (1 serving = 1/2 of a quesadilla): Calories: 406 | Calories from Fat: 230 | Fat: 25.6g (39%) | Carbohydrates: 5.2g (2%) | Fiber: 2.6g (10%) | Protein: 28.6g (57%)