Delicious keto chocolate chip cookies stuffed with low carb cheesecake and baked to perfection.
DURATION
Prep Time: 20 Minutes | Cook Time: 12 Minutes | Total Time: 32 Minutes | Servings: 10 jumbo cookies or 16 regulars | Calories: 275kcal
INGREDIENTS
Chocolate Chip Cookies:
1 cup almond flour 112g
1/2 cup coconut flour 54g
1/2 cup powdered monkfruit/erythritol sweetener 90g
1 tsp xanthan gum
1/4 tsp salt 1/2 tsp if using unsalted butter
1/2 cup + 2 tbsp salted butter softened, 150g
1 egg
1 egg yolk reserve the egg white for later!
1 tsp vanilla extract
6 tbsp stevia sweetened chocolate-chips 85g
Cheesecake Filling: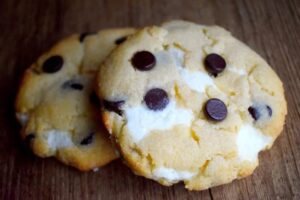 4 oz cream cheese softened, 1/2 cup, 112g
5 tbsp powdered monkfruit/erythritol sweetener
1 tsp of the egg white you set aside earlier
1/8 tsp vanilla extract
INSTRUCTIONS
Pre-heat your oven to 350*F.
In a large bowl whisk together your almond flour, coconut flour, xanthan gum and salt.
In a separate bowl, add your butter and sweetener. Beat until light and fluffy.
Add in your whole egg, egg yolk and vanilla extract. Beat again until everything is smooth.
Add the wet mixture to the dry ingredients and stir until a thick dough form.
Fold in your chocolate chips and place the dough in the fridge to chill…
Place the cream cheese mixture in the freezer for 10min.
To assemble, grease 2 cookie sheets. Take large scoops of dough (think ice-cream scoop size) and form them into a ball shape. Make a well in the center and place a glob of the cream cheese mixture inside.
Form the cookie dough around the cream cheese as best as you can (this doesn't have to be perfect, if some cream cheese shows through it won't melt out). Then flatten the cookie partially on the tray as shown in the photos.
Bake the cookies for 11-13 minutes at 350*F. They should be lightly golden around the edges but still very soft. Let them cool almost completely on the tray before trying to lift them. They will harden up as they cool.
Store the cookies in an airtight container between layers of parchment or wax paper in the fridge for up to 5 days OR freeze and thaw/microwave for 10-20s as a quick snack. Enjoy your Keto Cheesecake Stuffed Chocolate-Chip Cookies!
Notes: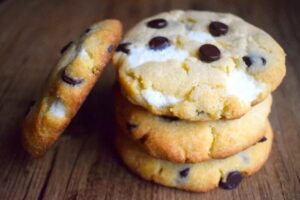 Feel free to make these cookies half the size to allow for smaller portions and reduced calories. I personally just enjoy having one large cookie and I think they look cool when they are jumbo! Haha.
To make these cookies look like bakery-style cookies, take a few extra chocolate-chips and push them into the tops of the cookies and sprinkle a bit of granular sweetener right before baking.
Unfortunately, these contain cream cheese so they cannot be left on the counter. They are fine sitting out for a few hours after baking them but I'd recommend storing them in the fridge or freezer after that.
These come out super soft at first. If they are just a bit golden brown on the edges then they are done! Don't be tempted to over-bake them. They will harden up as they cool.
NUTRITION FACTS
Serving: 1 jumbo cookie | Calories: 275kcal | Carbohydrates: 3.5g | Protein: 5.5g | Fat: 25g | Fiber: 6g