A rich and decadent recipe for Keto cream cheese chocolate cookies. The addition of cream cheese makes it a soft-batch cookie and a perfect keto treat.
DURATION
Prep Time: 10 Minutes | Cook Time: 15 Minutes | Additional Time: 5 Minutes | Total Time: 30 Minutes | Yield: 16
INGREDIENTS
1 cup of coconut flour
1/4 cup of cocoa powder
2 ounces of baking chocolate
1 tsp of vanilla extract
2 teaspoons of baking powder
1/4 teaspoon sea salt
½ cup unsalted butter softened
8 ounces of full fat cream cheese softened
1 cup granulated sugar substitute
4 eggs
1 teaspoon of instant espresso coffee
Keto Chocolate Icing
¼ cup of unsalted butter
1 tsp of MCT oil or coconut oil
1/2 cup powdered sugar substitute
Pinch of sea salt
2 ounces of baking chocolate
1/2 teaspoon of instant espresso coffee
INSTRUCTIONS
Keto Cream Cheese Chocolate Cookie Dough
Pre-heat oven to 350 degrees
Melt the baking chocolate in a double boiler or in the microwave (20 seconds) then set aside.
Using a mixer on high combine the cream cheese, butter, sugar substitute, instant coffee, and vanilla extract
Once fully combined add the 4 eggs one at a time, making sure that the batter is fully incorporated.
To the cookie dough add the melted chocolate and beat dough until it's perfectly mixed.
Next stir in the coconut flour, cocoa powder, baking powder, salt and mix well.
Keto Chocolate Icing
Melt the butter in a saucepan or in the microwave in increments of 10 seconds
Add powdered sugar substitute or make your own powdered sugar substitute in a clean coffee grinder.)
Stir in the cocoa powder and add the MCT oil or coconut oil. Combine well.
Stir in the pinch of sea salt and instant espresso coffee.
Baking Instructions
Add the cookie dough in spoonfuls to a parchment-lined cookie sheet.
Flatten the cookies slightly.
Bake cookies for 15-20 minutes (Do not over-bake)
Allow cookies to fully cool
Spread about a teaspoon of icing onto each cookie.
Allow the icing to set for about 5 minutes.
NUTRITION INFORMATION
Yield: 16 | Serving Size: 1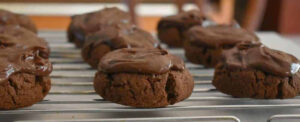 Amount Per Serving: Calories: 188
Total Fat: 17.1g | Saturated Fat: 10.7g
Cholesterol: 81mg | Sodium: 127mg
Carbohydrates: 6.2g | Net Carbohydrates: 5.1g
Fiber: 1.1g | Sugar: 3.9g | Protein: 3.5g