You will love these easy Keto Cheddar Garlic Biscuits they are a perfect Low Carb Red Lobster Biscuit Copycat! Only 2 net carbs each and loaded with flavor!
DURATION
Prep Time: 10 Minutes | Cook Time: 15 Minutes | Total Time: 25 Minutes | Yield: 22
INGREDIENTS
Biscuits:
3 ounces cream cheese, softened
1 cup shredded cheddar cheese
2 eggs
2 cups almond flour
1 teaspoon baking powder
1/4 teaspoon salt
1/4 cup heavy cream (scrape the measuring cup out since it is thick, make sure you get all of the liquid)
1 tablespoon melted butter
Topping:
2 tablespoons butter, melted
1 teaspoon garlic powder
1 teaspoon Italian seasoning or parsley
INSTRUCTIONS
Preheat the oven to 350 degrees F.
In a mixing bowl combine the softened cream cheese, cheddar cheese and eggs. Stir until cream cheese is smooth with no clumps.
Add almond flour, baking powder, salt, heavy cream and melted butter.
Stir until combined. Do not overmix or biscuits will be tough.
Chill the dough 10-15 minutes.
Using a small cookie or ice cream scoop spoon the biscuits out onto a greased or lined baking sheet.
Lightly press the dough down.
Bake 13-15 minutes until golden.
Meanwhile combine the topping: melted butter, garlic powder and Italian seasonings or parsley.
Brush onto biscuits.
Notes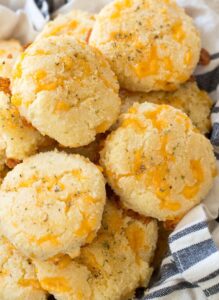 You can use unsweetened almond milk instead of cream if you want, but the fat content decreases.
The dough will be thick, be careful not to overmix, watch the video to see exactly how it should look.
If you want regular cheesy biscuits just leave off the garlic powder and seasoning in the butter topping. These biscuits are great for breakfast or sliders.
I use a SMALL cookie/ice cream scoop to get 22 biscuits. If you want to use a large/full size scoop you will get approximately 11 biscuits with about 4 net carbs each. The baking time is 16-18 minutes for the large biscuits.
NUTRITION INFORMATION:
Serving Size: 1 Biscuit
Amount Per Serving: Calories: 122 | Total Fat: 7.8g | Carbohydrates: 2.3g | Fiber: 0.4g | Protein: 3.5g