Super easy keto butter pecan fat bombs with only 0.4g net carbs per serving! Healthy, quick, delicious and 100% suitable for the ketogenic diet!
DURATION
Prep Time: 10 Mins | Freeze Time:  1 Hour | Total Time: 1 Hr 10 Mins | Yields: 9 Servings
INGREDIENTS
4 tbsp (2oz/56g) butter, melted
50 tbsp (0.7oz/19g) pure brown erythritol or 1 tbsp (13g) Golden Monk Fruit Sweetener or this 1:1 brown erythritol blend)
2 oz (60g) (approx. 4 handful) pecan halves
1 tbsp (0.5 fl.oz/15ml) heavy cream
½ tsp sugar-free vanilla extract
INSTRUCTIONS
Melt butter on low heat in a small pot or in your microwave.
Add remaining ingredients and mix thoroughly.
Add the butter pecan mass into a suitable silicone mold and chill in the fridge for at least 1 hour.
Pop the butter pecan bites out of their mold and enjoy with a hot cup of tea or coffee!
Notes
Store covered with plastic wrap or in an air-tight container for up to 1 week.
NUTRITION INFO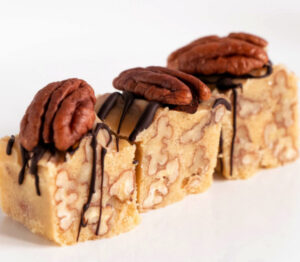 Serving Size: 1 bite (approx. 0.65oz/18g):
Calories: 101
Fat: 6.4g
Total Carbs: 1.1g
Dietary Fiber: 0.7g
Protein: 4.9g
Net Carb: 0.4g